Myanmar has not had what anyone could call an easy past. Almost 200 years of occupation, war and civil unrest has followed this country into the modern age, along with a large list of human rights violations. Among these are common reports of forced child labor, human trafficking and genocidal acts by the government.
Mang Hlei Bawi (pictured right) is 24 years of age. He came to us back in 2009. Mang has now completed a double degree in geography and theology (from Bethel Bible College). He has now completed his study for a master's degree in theology. Mang hopes to become a pastor.
EMPOWER ASIA MYANMAR has four boys' homes. One is based in the northwest, another is for Wa tribal boys, a third is in Yangon and the fourth is located in the controversial and violent Rakhine State.
The Wa Tribal Project: Back in 2011 when we opened the Wa boys' project in the Shan State we came across a boy who at the time was just 11 years old. He was studying in just grade one. This is because he was off labouring to help his parents instead of enjoying the luxury of attending school. At the time, even though he lived in Myanmar, he could not speak Burmese. He had nine siblings but seven had died. In 2009 his father had also died from an infected leg. His mum was a farm worker earning just one dollar per day - enough to purchase low grade rice to feed her family for two daily meals.
Now he is studying in grade nine. In the past he was a little unmotivated with his study but over the last couple of years he has seen greater value in an education and is now studying well and even achieving school awards. He has become a very helpful boy who very capably carries out his duties at the house.
Our house father hopes that he will be helpful for his family and God's ministry. It could be that soon he will study for a diploma in Bible studies. Simultaneously he will also learn a trade so that he may be self-supporting.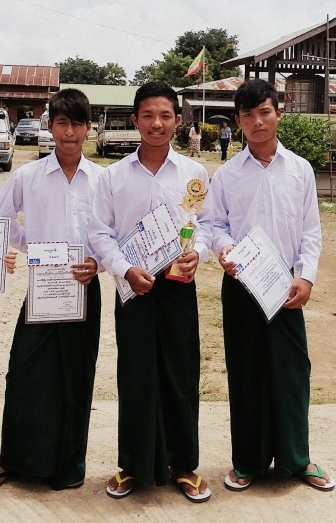 Left) Three of our boys having just received academic awards from their school.
Home situations for some of our boys: The boys come from villages that are often having to shift camp. In fact some of the boys have been attending very low grade "mobile schools". That is, the school follows the villagers around according to where they move to. Normally villagers will move camp because of violence and fighting between two different armies/factions in their area – they are escaping conflict. They are akin to being like refugees within their own country.
How can these children ever advance when sometimes their school has no school-teachers? Prior to coming to live at the home, some of the kids had never been to a town before and had never seen a white person.
Our Wa boys were extremely at-risk to being press-ganged into becoming child soldiers fighting for either the UWSA (United Wa State Army) or the Burmese army. In 2002 the UWSA reportedly had 20,000 conscripts and was dubbed by the U.S. State Department as the world's "most heavily armed narco-traffickers." The UWSA is filled with young men whose task is to serve their commanders so that their drug trade can carry on unhindered. Combined with their opium business, the elite army commanders and their associates earned (back in 2002) more than half a billion USD (tax free) annually. Of course little of this profit filters down to the masses.
EMPOWER ASIA, Box 2334, Dunedin, NEW ZEALAND empowerasia@gmail.com